RSS is one of the ways to have your content reached to all those who had opted to receive updates from your website. Today lets go through the steps to configure RSS in Magento 2. RSS is nothing but Rich Site Summary or otherwise termed as Really Simple Syndications. Its soul's purpose is to update the users with new content posted on any website that provides RSS feeds. Your users can opt to subscribe to your website's RSS feeds and what RSS would do is it would update them with any new content that you post it on your website. The user can subscribe to multiple RSS feeds from different websites and they can read all the new post updates from all those websites in one single place.
1. Login to Magento 2 Admin Panel.
2. Go to Stores -> Configuration.
3. Click on the RSS Feeds menu item under the Catalog section.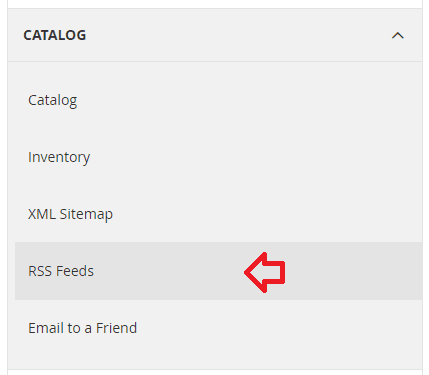 4. On the RSS Configuration page, expand the RSS Config group.
5. Set the value to Enable in the Enable RSS dropdown.

6. Open up the next "Wish List" section and set the Enable RSS dropdown to Enable. This would display RSS feed link at the top of the customer's wishlist page.
7. You can choose to enable RSS for products like:
New Products - Newly added products to the website.
Special Products - Products with special price
Coupons/Discounts - New coupon codes and discount offers.
Top Level Category - RSS feeds based on products in the top-level category.


Once you have enabled the RSS, go the frontend homepage and you would see a new footer menu item "RSS":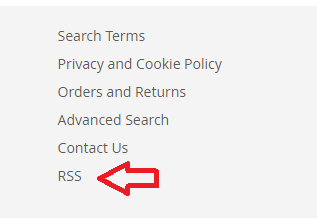 Clicking on this RSS menu item would open up the RSS Feeds page: