Shopify being one of the most leading ecommerce platform provides support to various payment gateways like Paypal, Stripe, PayU, SagePay etc. Some of the support for payment providers varies based on the country of the Store Owner. Say for example if you are selling from India, you will have access to Payment methods like CCAvenue, RazorPay, etc.
Fortunately, with Shopify, It is very easy to accept payments through various other options like Credit Cards and offline Payments like Cash on Delivery also.
To setup the payment options, just login to the Shopify Admin and navigate to Settings -> Payment Providers.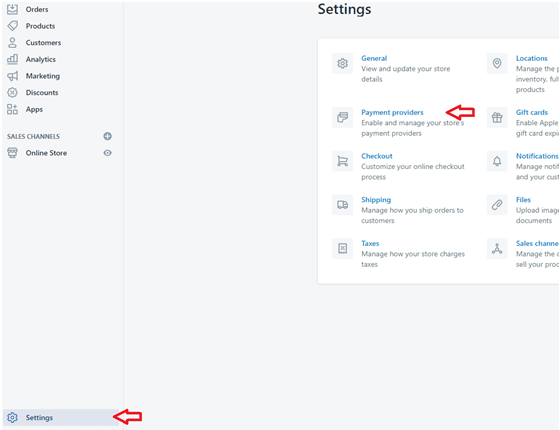 This page would display several payment options and the first one would be Paypal since it is the most preferred payment option used by most of the vendors.
Paypal:
Paypal is the most commonly accepted payment method when comes to online shopping and perhaps it the most widely used option after credit card. In order to use Paypal for accepting payments from customers, you will need to first signup for a Free Paypal Business Account.
Once you have your Paypal account created, on the Payment Providers Page, just click on the Activate PayPal Express Checkout button. This would open up the Paypal page where you would be prompted to login. You will need to follow their steps in order to complete the setup process.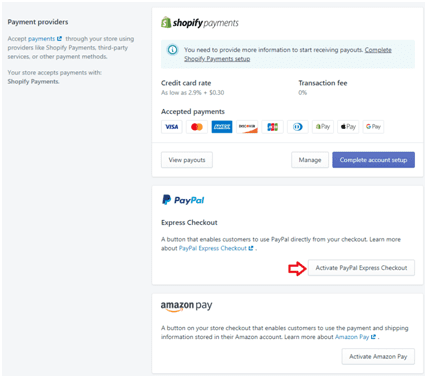 The Paypal Express Checkout would redirect the customers from the checkout page to the Paypal website in order for them to complete the payment process.
If you want the customers to not be redirected from your website, you can use the Paypal Payflow Pro option. The Paypal Payflow Pro option is available under the Third-party provider's section. Click on Choose third-party provider button:

This would open up the Third-party payment providers page where you can search for Paypal Payflow Pro. Click on the Paypal Payflow Pro option and configure the Account Information to enable this payment option and choose the Credit Card types that you want to accept.
Alternate Payment Methods:
Alternate Payment Methods are payment methods that you can configure in addition to Third Party Payment providers or Shopify Payments. There are various options In it Alipay, Skrill, etc that you can choose between.

Manual Payment Methods:
Payments that you want to process offline (outside your online store) can be configured from the Manual Payment Methods. You can choose between Bank Deposit, Money Order or Cash on Delivery or you can create your own custom payment method.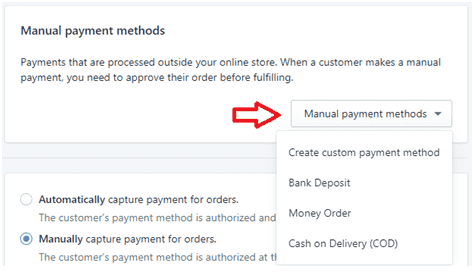 Shopify Payments:
Shopify provides its own payment solution which provides the option to accept payment in multiple currencies also. There are various benefits that Shopify provides when using Shopify Payments like all other subscription transaction fees are waived and no monthly fees, hidden fees and setup fees. Also the credit card rates would get reduced as and when you upgrade your Shopify plans. You will have to complete your account setup in order to configure the Shopify Payments. So why wait and check it out.