One more Magento extension created to rope customers into visiting your stores! It facilitates customers to register into your online store using their social account with our Magento social login extension. All they need to do is click on their favorite social account to log into the store.
Customer experience has taken precedence over all other aspects like marketing and building the brand visibility of a product. Now the focus is on how easy and pleasant it is for a customer to visit, add to cart and buy from your stores. An appropriate hassle-free extension that assists in easy conversion rates and less abandonment rate for the Magento supported store owners.
The admin has to generate and provide all their account credentials to allow customers to log-in with social platforms. There are 18 and more social networks that support your website login. Some of the popular ones being Facebook, Twitter, PayPal, and Google+. For customers who are not keen on using social media, a standard Magento login is also available.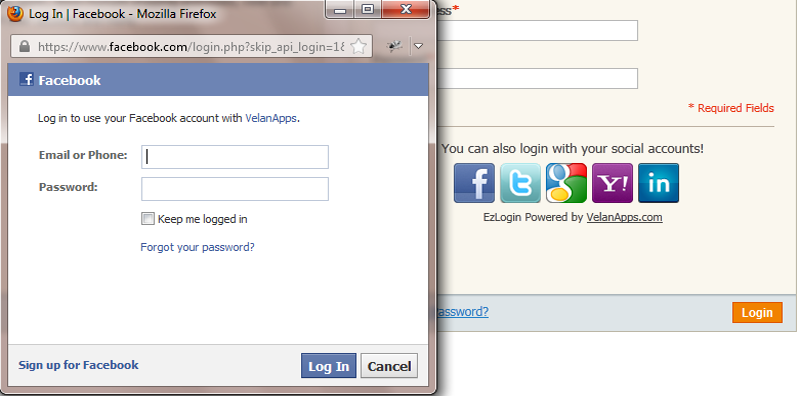 Customer Advantage:
A User-friendly login extension where the customers are given options of various social networks. The simple steps of entering username and password will allow them to log into your store, thereby avoiding any cumbersome forms to be filled.
When customers have signed into their social account, the system will auto-use the information from the account to login.
A new password is e-mailed to the customer to create a separate account for the store website.
Admin Advantage:
Ample flexibility to make changes in the frontend layout.
Social Login bar can be positioned at the desired location.
General advantages:
Responsive Magento extension
Comprehensive social login; supports Magento community edition only
Easy and free installation
Simple, user-friendly interface
Our Ezlogin Lite supports logging into Facebook accounts only. The Ezlogin Premium social login extension supports a host of other social networks. A Magento Facebook Login extension has been created only for Facebook members, as it is the most popular social network.
Buying one of these awesome extensions will provide great customer experience to the buyers and visitors of your online stores. Contact us to get one today!