Google search engine aims at providing meaningful content and results for their users and hence meta descriptions play a vital role for customers to visit your website. Spending some time to generate good and meaningful meta descriptions for your products can be very much rewarding. Do keep in mind about your users while writing meta descriptions for your products as this is what they read and decide whether to visit your website or not.
Below are very simple steps to modify meta descriptions in Shopify:
1. Login to Shopify Panel.
2. Navigate to Products -> All Products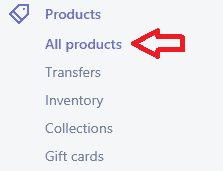 3. Click on any one of the products from the list if you want to edit an existing one or click on the Add Product button.
4. Scroll down to "Search engine listing preview" section.
5. Click on the "Edit Website SEO" link.

6. Change the text in the Meta Description field.
7. Click on the Save button.